Nestlé Milo Production Facility
| | |
| --- | --- |
| Client: | Nestlé |
| Location: | East Java, Indonesia |
| Scope overview: | Establish a Milo production facility within the company's existing dairy product manufacturing compound |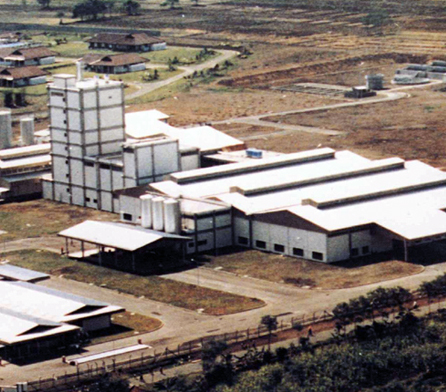 Project Description
Indonesia Milo production facility expands PT Nestlé's market share
CLIENT
Nestlé is an iconic international brand producing and supplying a vast array of food and beverage products throughout the world.
OBJECTIVES
Nestlé contracted Wiley to establish a Milo production facility within the company's existing dairy product manufacturing compound at East Java.
CHALLENGES
Undertaking deep excavation in poor ground for basement construction
Meeting Nestlé's demanding standards for construction, safety and quality of the finished facility while maintaining ongoing dairy production in adjoining facilities
Supervising and directing the Indonesian labour force to achieve required construction standards
Interacting between Wiley head office design staff in Brisbane and Nestlé resources in Indonesia and Europe
Operating with restricted access for construction within the existing manufacturing environment
Working on a site in a remote area two hours from the metropolitan area of Surabaya.
SOLUTIONS
Advice
Detailed construction planning and methodology
Introduction of alternative materials typically not used in the industry.
Design
Compliance with Nestlé internal corporate detailing
Effective communication between Wiley design team and Nestlé engineering/design resources
Localising of the design as appropriate
Provision of all building related design disciplines
Innovative design to allow for future expansion and equipment access.
Engineering
Close coordination with Nestle engineers and equipment suppliers to facilitate efficient equipment installation.
Construction
Direct subcontracting of all construction trades
Supervision and direction of the local labour force by expatriate site managers
Construction of:

a two-level basement housing a 3.25m deep batching room and a 5m deep hopper room
the ground floor, comprising warehouse, batch tipping, filling room, control rooms and mixing and rework areas
the first level, comprising raw material silo room, the finished product silo room, power rooms and air handling unit
the second level, comprising silo gangways and platforms to the three two-tonne silos and the 130-tonne dryer and eight-tonne vacuum plant.
RESULTS
Completion of the 3,600m2 facility that allows Nestle to expand its share of the growing specialty processed food market in Indonesia and South East Asia.