Strong partnership rewards Wiley and JBS
| | |
| --- | --- |
| Client: | JBS Australia Pty Limited |
| Scope overview: | Construct facilities to allow JBS Australia to meet the demanding regulatory requirements of its export markets |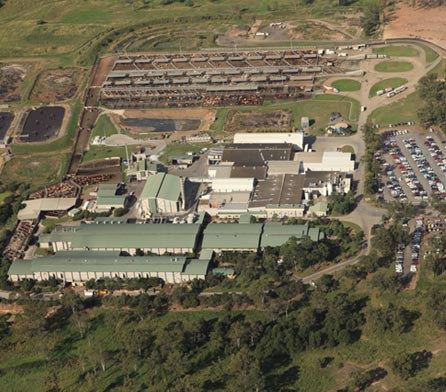 Project Description
JBS Australia Pty Limited is a division of JBS, Brazil's largest multinational in the food sector, and the world's largest meat company. JBS Australia has an extensive presence along the eastern seaboard, with a number of domestic and globally recognised brand names including AMH, King Island Beef, Royal, Swift Premium, Tasman Meats and Tasmanian Premium Beef.
Wiley are leaders in the field of designing and constructing specialised food processing facilities for companies like JBS Australia.
HISTORY
We take pride in the strong relationship we have built with JBS Australia since the 1980's having successfully delivered a diverse range of projects across their Australian facilities, each with different individual service needs.
Working with JBS Australia requires a strong understanding of their diverse operations and processes and how each facility must integrate into the overall operational structure. Projects include commercial buildings, abattoirs, meat processing, rendering, boning rooms, feed mills, by products, waste water and centralised dispatching.
Wiley have delivered projects for JBS Australia from North Queensland through to Tasmania, from major metropolitan plants through to remote rural locations. Our in-house multi-disciplined skills have been applied to provide advice, design, engineering, construction and project management on a diverse range of JBS Australia projects, ranging from minor works through to some of the largest, award winning facilities of their type in the Southern Hemisphere.
Wiley partnered with JBS Australia to create an environmentally sound hides processing facility, allowing them the ability to process hides in-house.  This required engineering the process in an entirely new way, in particular the use, storage and recovery of salt — traditionally, this has an adverse environmental impact.
Wiley was contracted to design, engineer and construct the new facility to meet JBS Australia's hide processing needs from multiple plants throughout Queensland.  Wiley delivered a world-class hide processing facility for JBS Australia that is innovative, environmentally-effective, sustainable and designed to last in a highly corrosive salt atmosphere.  The facility is easy to operate, maintain and is cost-efficient to build and operate over its lifecycle.
Our expertise in the meat industry has delivered overall operational improvements and cost savings to better position JBS Australia in the competitive red meat export markets to the United States, Japan, Korea, South East Asia, Canada and the United Kingdom.
SOLUTIONS
Our knowledge of JBS Australia's business allows us to develop innovative, cost saving solutions to project challenges, including:
Master planning and assessment of the many development options
Designing and locating new facilities to improve control and efficiency of product flow and throughput
Coordinating complex and extensive building services and process equipment components within rigid project delivery schedules and staging parameters
Integrating operations to increase capacity and increasing operational control, efficiency and productivity to reduce operating costs and maintenance in the existing operations
Fast tracking all stages of a project — design, development approval, building approval, mechanical engineering, design documentation, construction and commissioning
Designing facilities to fit tightly into existing sites
Constructing new facilities and connecting the services to the existing facilities infrastructure, without disrupting existing operations
Conforming to Australian stringent regulatory requirements and meeting the requirements of concerned local councils
Meeting all the environmental requirements of JBS Australia
Mechanising sorting, handling and palletising processes to avoid manual handling, reduce labour costs and enhance occupational safety
Using computerisation to ensure up-to-the-minute control over inventory and documentation
Management of projects on remote sites
RESULTS
Wiley has successfully constructed facilities to world best practice principles, allowing JBS Australia to meet the demanding regulatory requirements of its export markets.