Wiley is proud to have helped deliver another successful technical knowledge evening, on the topic of steam production and utilisation, with the Queensland Executive Committee of the Dairy Industry Association of Australia (DIAA).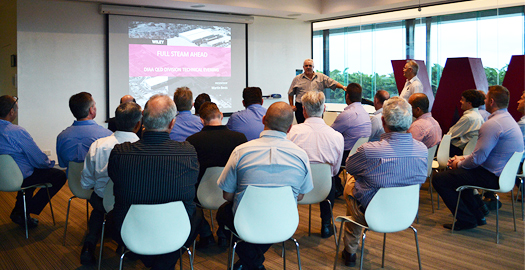 Arthur welcomes the delegates and introduces the evenings speakers
Host for the evening, Wiley's Project Manager/Engineering Arthur Seiler was extremely happy with the turnout, high quality of information shared and level of engagement from the gathered delegates, primarily from the manufacturing industry.
"It was a great night. Thanks to everyone who came along and participated and also thanks to Martin Bevis (Wiley) and Wayne Harvey (Spirax Sarco) for their excellent presentations." said Arthur.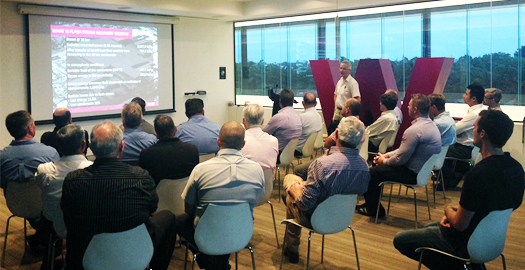 Martin Bevis shared his insights on efficient steam production and utilisation
Martin's and Wayne's presentations will be available for download from our website in the near future.
"The group was really switched on, ready to listen and discuss. The key takeaway of the night for me was understanding that steam is a tricky resource and can be dangerous and expensive if mismanaged. It is vital to talk to the right people first, get best industry advice and then source high quality equipment from proven suppliers." Arthur shared.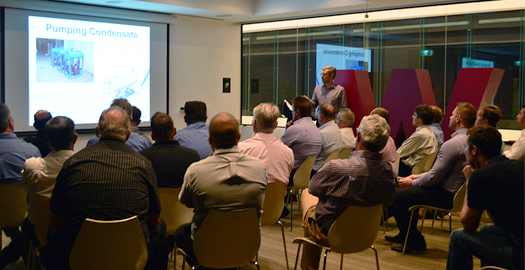 Wayne Harvey from Spirax Sarco presented on the value of condesate recovery
"We are always looking for suggestions on topics for future events. Last night's group shared they are interested in learning more about waste water management and biogas recovery and asked for even more depth into steam utilisation, specifically on improving efficiency and cost effectiveness." said Arthur.
If you have a suggestion for a future technical evening topic and/or are interesting in presenting at a future technical evening please leave a comment or email connect@wiley.com.au